Cinema EBR For Cinematography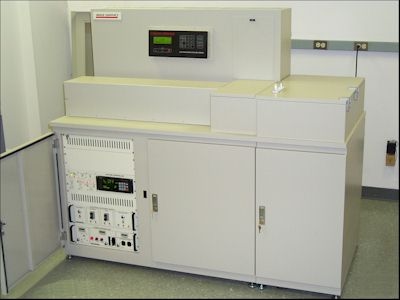 The Cinema Electron Beam Recorder records motion picture imagery as color separation transparencies on 35mm and 65mm film stock using a variety of industry standard image input formats. The fine grain, high resolution red, green and blue color separation masters are used to print color composite frames for motion picture applications.  The Cinema EBR is also capable of recording on black and white film stock for positive or negative filmasters at variable resolutions from 2K to 4K.  The typical recording rate for HDTV (2K) is 0.3 sec per frame (3 frames per second) and for high resolution (4K x 3K) is 0.6 sec per frame.The Cinema EBR exposes archival, electron sensitive, silver halide film (up to 2000 feet) which is processed using conventional black and white motion picture film techniques. Color prints or masters are produced either using the standard Technicolor strip process or sequential red, green, and blue frame exposure onto the highest resolution color film stock commercially available. The Cinema EBR can record up to 25 Mpixels/sec using a 6 micron pixel spacing. Vector/character exposure of areas beyond the normal camera aperture makes a variety of frame and job coding and annotation available to the user.
Input to the Cinema EBR is through the Raster/Vector Generator (RVG 450S) which controls all input command signals and digital image data. The RVG 450S uses a standard S bus or PCI bus interface allowing the Cinema EBR to be driven from a variety of platforms. These standard commercial platforms allow the Cinema EBR to be networked to multiple compositing and/or editing special effects workstations.
Cinema EBR 2000 specifications are available here.
Pricing
Quotes are available on request.  eBeam Imaging provides base machines, several options, and associated process and software development, as well as on-site service contracts.