TerraView 6000 Electron Beam Recorders For Remote Sensing And Satellite Imagery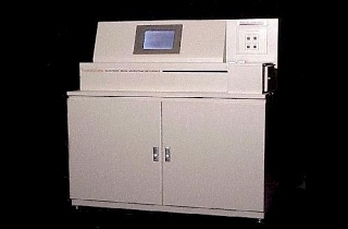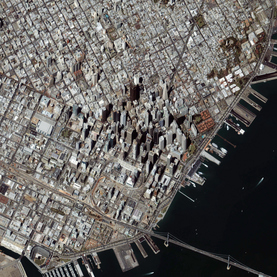 eBeam Imaging manufactures the world's highest resolution hardcopy output printers for recording satellite imagery. The TerraView 6000 commercial line of recorders makes on-demand printing of high resolution (6000 dpi) exploited, annotated, and/or mosaic softcopy satellite and aerial imagery fast and easy. With its open architecture, the TerraView 6000 is capable of printing 27,000 x 37,000 pixels on five inch wide PERM Processless Film for immediate access or Silver-Wet Processed Film for archiving. It interfaces directly to network print servers and can support numerous workstations with its job control software. The TerraView 6000 gives an image analyst a high resolution continuous tone gray shade printing a capability and an image recording throughput not available with other lower resolution (2k x 2k) format laser or LED dye sublimation or dry silver printers. The TerraView 6000 prints more than 900 softcopy images (2k x 2k) on a single five-inch file frame, which is up to 75 times faster than other image printers. 
TerraView 6000 Electron Beam Recorders record imagery on either 5″ or 9.5″ silver halide, wet processed film and PERM processless film. The 9.5″/5″ TerraView 6900C can record on 9.5″ or 5″ wide film using a continuous motion film transport. The TerraView 6000F is available for 16mm, 35mm, and 105mm film for archival storage and browse files.
The TerraView film recorders are based upon the Hard Copy Reconstruction Units (HRU) and other film recorders manufactured for by eBeam Imaging for the U.S. DoD and other government agencies to record satellite and aerial imagery and cartographic film products.
For more information on why hardcopy remains an important output mechanism in today's high tech world, see our white paper, Why Film in a Digital World. 
Resource Inventory- From Satellite To Color Images
Acquiring records of the world's resources is critical to many businesses, government agencies, and private organizations. For monitoring the growth of crops, searching for minerals, tracking water resources, or inventorying specific vegetation– numerous people depend on reliable information from remote sensing. Much of that information provided through LANDSAT satellites has been recorded on EBR systems.
The LANDSAT satellite takes "photos" of the earth at seven spectra bands and transmits them in digital form to a ground station where the raw data is recorded with high density magnetic recorders. The data is then processed into gray level raster pixels for recording each of the seven spectral bands as seven color separation image overlays with an EBR. The EBR records the continuous tone raster images on film directly from digital data and adds annotation in bit-mapped or vector graphics around the image frame. The color spectral differences sensed and transmitted by the satellite are carefully maintained and recorded on individual spectral overlay separations in perfect registration.
Correction coefficients for geometrical errors caused by satellite orbit, earth's rotation and sensor configurations are introduced during the recording process. With its speed, high resolution, and ability to record precise color separations of the gray level spectral data with vector annotation, the Electron Beam Recorder images enable resource managers to interpret the valuable data provided by LANDSAT. The same technology can also record other types of aerial and satellite remote sensing imagery.
Why Buy A TerraView EBR?
High Performance: with 55,000 pixels X 155,000 lines and higher for 9.5 in film and 27,000 pixels X 34,000 lines and higher for 5.0 in film.
High Throughput: up to 50 Mpixels/sec for the time critical information analysis – up to 75 times faster than dye sublimation and xerographic printers
High Quality: uses a 4 micron electron beam to create the industry's sharpest dot to record raster, vector, bitonal, halftone and continuous tone grayscale data.
Open Architecture: Supports all remote sensing formats, including GEOTIFF, Space Imaging, Earthwatch, ER Mapper, and National convertible TIFF files, and is easily networked with multiple workstations
Flexible Output: Monotone color separations of various spectral bands, continuous tone and halftone imagery, capable of up to 20x enlargement
Multiple film sizes: 16mm, 35mm, 105mm, 5.0 in., 9.5 in. in both framing and continuous motion film handling systems.
Multiple film options: Silver Halide -wet processed archival quality film or processless PERM film.
How The TerraView Works
The TerraView 6000 uses a high energy electron beam generated by an electron gun, to expose either silver halide or PERM film. This beam, modulated by a high speed video coupler, is subsequently focused, shaped, and deflected using a two axis electromagnetic electron optical system. The beam is computer controlled to record multiple sensor inputs on variable image formats.
The Control and Data Processing Subsystem for the TerraView 6000 consists of a COTS computer controller; specifically a Sun SPARC Station and a Raster Vector Generator (RVG-450). The TerraView 6000 can be operated on-line, off a network (from either a hardcopy output printer or an analyst exploitation workstation), or stand alone from a media input.
These recorders can be optionally supplied with internal film punches for color registration of multispectral images.
TerraView 6000 F Series
TerraView F Series Recorders use an intermittent film framing film transport to provide users with film transparency image frames. These recorders can provide top quality image output for Image Analysts to examine satellite, remote sensing, and aerial imagery. With the TeraView 6000 F series, the Image Analyst can mosaic many scenes for broad area coverage at exploitation resolutions.
Specifications for the TerraView 6000 F series are available here.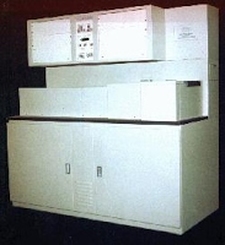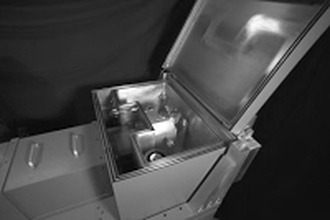 For users requiring a wide area printout, the TerraView C Series uses IDI's specialized continuous motion transport to cover large regions as shown in Why Film in a Digital World.
The 6500C provides 27,000 pixels by 155,000 lines on a 4.5″x25″ piece of film.
The 6900C provides 55,000 pixels by 155,000 lines on a 9.1″x25″ piece of film and can record 55,000 pixels by any length up to 200 feet.
Specifications for the TerraView 6500C and 6900C are available by request.