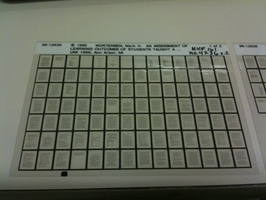 The MicroPublisher MP 6000 makes data archiving on demand a reality. It provides the fastest, easiest, least expensive way to convert virtually all of today's digital file formats to microimages on film. With higher resolution, faster throughput and unmatched flexibility, the MP 6000 is the real solution to the two biggest challenges in archiving – technological obsolescence and media deterioration.

Exclusive eBeam film recording makes the MP 6000 an "All-in-One, All-Points-Addressable" system that spans today's most widely used input and output technologies. The computer-controlled electron beam records Group IV TIF "on the fly" or  PostScript™,  PDF and virtually any of over 250 file formats through our conversion process. Archival images are exposed directly onto standard commercial film. The entire film recording area can be addressed in any order or orientation. The superior quality of MP 6000 archival eBeam film prevents deterioration or loss of information when microfilm documents are scanned and digitized in the future.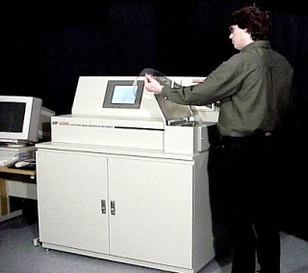 With the MP 6000, corporations, government agencies and service bureaus can archive their data on demand, avoiding the risk of digital obsolescence while substantially reducing their operational costs.  
Detailed product specifications are available here.
Key Benefits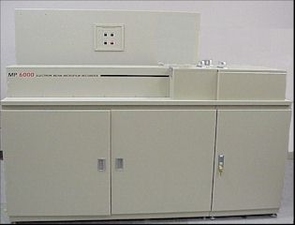 High Speed: The MP 6000 can record up to 3500 images per hour, or 20 million images per year running three shifts a day.
High Resolution: The MP 6000 runs up to 6000 DPI, which means it can handle various reduction ratios, up to a 72X.
Gray Scale: The MP 6000 can record half tones and in gray scale, making it perfect for recording complicated images with better than photographic quality.
Annotated Film: IDI provides all points addressable annotations that include blip marks, bar codes, file names, and field index information. If you can provide us the data, we can figure out to record it on film.
Networkable: The MP 6000 can be integrated directly with your local area or wide area network. Moreover, several MP 6000 have been networked together, so they can run off a single server and handle large batches of data.
Archival Quality Film: MP 6000 output is recorded on archival quality and can last up to 500 years. IDI has a film processing and inspection facility which is certified to meet all the archival requirements. We use an independent laboratory to conduct methylene blue testing and certification of our film processing. Therefore, we provide an archival certification with our microfilm imagery. IDI is also a Kodak Data Document Conversion Center and our film processing procedures are certified by Eastman Kodak.
Pricing
Quotes are available upon request. IDI provides base machines, several options, and associated process and software development, as well as on-site service contracts.